Home Science Tools® has been selling science lab resources and creating custom lab kits for several other publishers' science programs for years. Now they have created their own hands-on science kits on topics related to biology, chemistry, physics, and earth and space. You can use these kits individually, but Home Science Tools has bundled kits into complete courses for different levels, including instructional information and assessments so that they provide all that you need for your complete science curriculum.
The bundles are aligned fairly closely with the Next Generation Science Standards. While the standards specifically call for extensive instruction on evolution as a key scientific concept, Science Unlocked tries to take a more neutral approach, although it does teach an old age for the earth. Regarding evolution, some of the kits teach about natural selection, genetics, and adaptations, without specifically connecting them to evolution, but some of the lessons imply that evolution is the explanation. They don't discuss the origin of the human species.
There are three levels of kits designed for three different age groups: the Wonder level for kindergarten through second grade, the Accelerate level for grades three through seven, and the Launch level for grades eight through twelve. Each kit should take about four to six weeks to complete. Home Science Tools bundles six kits per year for kindergarten through seventh grade and nine kits per year for grades eight through twelve.
There are 79 kits as of September 2022. I'll list just a few of the kits for each level to give you an idea of the topics covered.
That's a Sound Idea (physics, Wonder)
From Brr to Burrow (biology, Wonder)
Squishy Science (chemistry, Wonder)
How's It Growin'? (biology, Accelerate)
Fizz, Foam, and Fire (chemistry, Accelerate)
Wave Wisdom (physics, Accelerate)
Good to Glow (chemistry, Launch)
Project Projectile (physics, Launch)
Ancient Organisms (biology, Launch)
Newton's Notions (physics, Launch)
I received three kits for review, one from each of the three levels. My remarks are based on these three kits, but they should apply to the other kits.
Each kit includes a teacher guide, a student workbook, and a Getting Started folder, along with almost everything you need for children to do several experiments. (Extra student workbooks are available, but only by calling the publisher. They are not listed on the website.) The kits generally contain a combination of easily obtained household items and specialized items. The inclusion of resources such as rubber bands, paper cups, and paper clips saves parents time and hassle, but it does raise costs. The Getting Started folder lists the content of the kits followed by a very brief list of the few other items you will need. For instance, the Fizz, Foam, Fire! kit requires you to supply only paper towels and water, and the Good to Glow kit requires only scissors and water.
The student workbooks have a mixture of information, experiments, hands-on activities for observations, charts to complete, and questions to answer. The experiments and activities have complete instructions (sometimes with illustrations). They are always accompanied by questions that prompt students to think about what they have observed. Many activities have a series of questions that help students extend their understanding and application of what they have learned.
There are generally five activities per kit, but they are not simple since each activity often has multiple parts. The teacher guides provide a suggested schedule on the inside front cover showing the time required for each part of an activity and the number of days needed for each activity. (I think the schedules allow more time than you will need in many instances.) Many of the kits have optional extension activities at the end of both the teacher and student books.
As you would expect, the activities for the Wonder level are less complex and require less analysis than those at the Accelerate and Launch levels. Based on the kits I received, the amount of information gradually increases in the student workbooks. Accelerate adds much more substantial information than Wonder, and the information in Launch starts to look very much like that in textbooks.
There are two bundles of kits for the Wonder level, and since they cover topics from various science disciplines, they are identified as Year 1 and Year 2. The Accelerate level has four kits: Biology, Physics, Chemistry, and Earth and Space.
Launch-Level Kits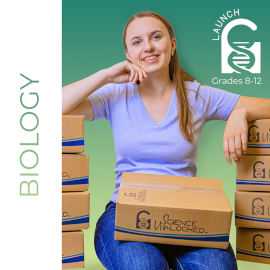 The Launch level has four bundles of kits that can be used for grades eight through twelve, although the Earth and Space bundle is best for eighth grade since it covers many standards for both middle and high school. The other three Launch bundles—Biology, Chemistry, and Physics—concentrate almost exclusively on standards for high school and should qualify as college-prep lab courses.
For example, the Biology bundle includes these kits:
Ancient Organisms (fossils and evolution)
Game of Survival (natural selection and adaptation within a species)
Unintended Consequences (ecosystems and human impact)
Breathing without Air (how energy and matter cycle through organisms during respiration, with and without oxygen)
Revenge of the Synth (biochemistry)
Chasing Equilibrium (covering equilibrium within the human body, blood sugar levels, blood pressure, the dissection of a sheep kidney, and more)
Cats and Chromosomes (genetics, traits, and mutations)
Crack the Code (covering DNA, cell replication, and applications of knowledge about DNA in modern medicine)
Flashy Feathers (changes in populations)
The coverage of biology with these kits differs from the typical biology textbook that begins with the micro level of cellular structure and gradually moves up through the various life forms to the macro level of interactions within ecosystems. The first two kits in this bundle are based on evolutionary presuppositions.
The Role of the Parent or Teacher
The teacher guides have a suggested schedule, notes about each experiment, and suggested responses to the questions. A parent or teacher needs to be involved at the Wonder level, and less so at the Accelerate and Launch levels. Most students will benefit from discussing some of their ideas and conclusions before writing them in their student workbook even if they are able to work through most of the lessons on their own. Of course, parents need to hold students accountable by evaluating their work and providing feedback.
Summary
The Science Unlocked kits do an excellent job of combining instruction with hands-on learning, plus opportunities for students to document and write about what they have learned.