McRuffy Press's Science series for grades K through 3 offers an activity-rich program. The program is written for classroom use but easily adapts for homeschooling. It requires teacher presentation and interaction for most of the lesson time, although by third grade some students might be able to read through lessons and answer questions on their own. Even so, parts of the lesson still require teacher demonstrations or supervision of experiments or activities.
There are there primary components to the course for each grade level: a teacher's manual, a full-color student workbook, and a resource pack. The resource pack includes laminated game boards, cards, tests, charts, and small posters. The numerous experiments and activities require additional resources. Some are easy to find (e.g., string, scissors, measuring cup, etc.) while other items such as centimeter cubes, mini electric motors, marbles, switches, and pulleys are more challenging to find. So McRuffy offers kits of the more difficult to acquire resources; kits might end up costing you less than if you bought each item yourself. Kits will certainly save you a great deal of time. Also, if you use McRuffy science again the next year, they offer kits of only the new items required for the next grade level. Prices for the complete curriculum plus the kit are very reasonable for all that you get. Because lessons often include activities, you need to plan ahead to make sure you've got everything on hand.
Lessons are designed to be taught in two sessions per week. Some sessions with experiments or activities might take more time than others.
The teacher's manual provides everything you need for presentation of each lesson. They make it easy for even inexperienced home educators to teach the lessons. Each lesson lists the objective, materials needed, and any preparation or things to think about in advance. Lessons are presented in such a way that you can teach directly from the manual. Sometimes, parts of lessons are scripted with questions for guided conversations. Lessons always involve some sort of discussion, generally prompted by questions from the teacher's manual. These conversational questions are designed to help the teacher evaluate prior knowledge of a topic or comprehension of what has just been taught. Questions also help children observe and draw conclusions—many require some critical thinking.
The text in the student book is also printed in the teacher's manual so you can follow along as a child reads aloud (or you can read it in advance.) Images of reduced student pages are also included in the teacher's manual so you know what the child is viewing.
Lessons frequently conclude with suggested evaluation strategies. While there are a few quizzes and tests, most evaluation will be done informally.
The games in the resource packet are designed to reinforce learning. They are not "just for fun." The other resources in the packet are also used with specific lessons. All this is directed from the teacher manual.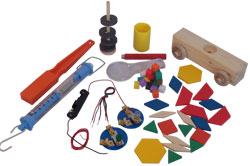 Instructions for the science experiments and activities are sometimes in the student workbook as well as in the teacher's manual, depending upon whether or not it is practical. For example, in third grade, students might build a magnetic switch with materials from their kit and the illustrated instructions in their workbook (under adult supervision).
Like most classroom oriented science courses, the McRuffy courses cover topics across the spectrum of life science, physical science, and earth and space science each year. For example, the first eight topics taught in the third grade course are inference and observation, animal groups, heat and cold transfer, changes in the earth's surface, systems and subsystems, body systems, simple machines and forces, and earth materials. While I personally prefer to cover a narrower range of topics each year, these courses are more similar to those from major publishers of classroom textbooks. You can see how each course aligns with National Science Education Standards at the front of each teacher's manual. Courses are secular but they are not based on evolutionary assumptions and should be appropriate from Christian home educators.
The many activities and experiments make these courses more appealing to most students, while solid content and interactive learning are likely to ensure that students start to build foundational science knowledge.