The Complete Aquarium Adventure and The Complete Zoo Adventure share the same format even though they were created by two different sets of authors. Merilee and Bill Clifton created The Complete Aquarium Adventure while Mary and Gary Parker authored The Complete Zoo Adventure. Each is a combination book and kit for a guided field trip experience to an aquarium and a zoo, respectively.
The aquarium to be visited will, ideally, have a broad range of marine life, but it might be an oceanarium, marine-life park, or marine science center. Similarly, the zoo used for your field trip should be large enough to have representatives of many different types of animals. Zoos or aquariums that most accurately portray the natural habitats of creatures will be the most helpful. Since most zoos and aquariums present information from an evolutionary point of view, these guides provide information from a creationist perspective that can be used to counter or expand upon what students see and hear from the zoo or aquarium. The guides also teach about our role as stewards of God's creation.
Master Books publishes an Elementary Zoology course that uses these "adventure books," with the Parent Lesson Planner from that course providing lesson plans for using each of these books for two weeks. Seven days are spent in preparation for each field trip, and two days are dedicated to follow-up activities. A similar schedule is outlined within each book, although the schedule is more explicit in Zoo Adventure than in the Aquarium guide; each guide includes complete implementation instructions so they can be used apart from the Elementary Zoology course. The advantages of using the entire course are the much more comprehensive coverage of zoology accomplished through use of The World of Animals and the activity-book approach to the exploration of dinosaurs in the Dinosaur Activity Book.
Each Adventure "book" has 160 pages bound between hard covers plus a "kit" attached at the back of the book. The kit contains cards, games, or other items to be used. Vivid, colorful illustrations make the book portion very attractive on its own! These pages are separated into sections with heavy tabbed dividers so that it is easy to find a section when needed.
Each book highlights just a few creatures from each category, so these books do not try to present information about all of the creatures you will encounter on your field trips. For example, the Reptiles section in Zoo Adventure features only the Komodo Dragon, alligators and crocodiles, and the tortoise. You are supposed to carry each guide along on your field trip, reading information from the book when it's pertinent.
You should spend seven days in advance of each trip using the pages provided at the front of each guide. These pages have a devotional for each day as well as a short study on science and the Bible. The latter usually discusses some aspect of God's role as Creator. You might also use the suggested Scripture memory passages, but it might be unrealistic to expect children to memorize these within the short amount of time you might dedicate to each Adventure book.
You will also prepare by first familiarizing yourself with all of the other resources in your adventure kit. Once you know how these will be used, you will probably want to spend some time familiarizing students with those you will take along on the field trip in advance. You will understand why as I describe the resources included with each kit.
The Complete Zoo Adventure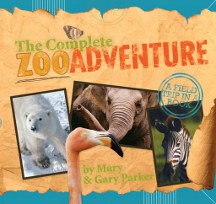 The Complete Zoo Adventure's kit has four resources. Field Assignment Name Badges give children an opportunity to take on special responsibilities on the field trip, marking that on their name badge. They might be a "reader," an artist or photographer, a recorder, or a map reader, or they might take on another task that you might assign.
The Field Journal is a foldable card for recording information when you locate particular animals, especially those featured in the book. Three copies of this come with the kit, but you can make copies of the Field Journal if you want more students to do this. I recommend that you also copy page 29 in the book to use as a quick index to the animals in the book to use along with the Field Journal. (This page also has puns for each of the animals that might be fun to use while on your field trip.)
A set of 27 Field Fact Cards might be used in preparation for the field trip, on the field trip, and/or afterwards. These cards have an identical list of questions on one side of each card, questions such as "How big is it?", Where does it live, geographically?", "How is it grouped? Reptile, mammal, bird, fish amphibian?", and "What day was it created?" Answers are printed in order on the reverse of each card. You might hand cards out to students and let them be the "specialist" on those animals, sharing information from their cards as they encounter those animals or else posing the questions to the other students to see if they can answer them. You will also have someone read the section of that same animal from the book. However, I suspect that you might have to choose between Field Fact cards or reading from the book, and you might need to abbreviate some of the reading to keep their attention!
Seven Biome Cards are supposed to be used after the trip. However, I think going over these beforehand might be useful since there's a question about this on each animal's Field Fact Card.
A section at the back of the book tabbed "After the Zoo" provides follow up activities that reinforce learning. These will be done using the Fact Field Cards, the Biome Cards, and 35 reproducible activity pages. Activities are labeled as appropriate for different ages groups. Some are simple word searches, puzzles, and coloring, but others require students to recall or research information on animals and their environments, complete charts, and write reports, or articles. Some creative options direct students to create a zoology scrapbook, create a PowerPoint presentation on their field trip, draw the feet of different animals and write about their differences, and create an advertising brochure. There are more activities here than can be completed in just a few days! You might choose to spend additional time on the activities.
The Complete Aquarium Adventure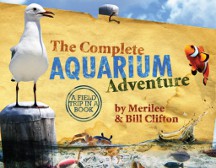 The kit at the back of The Complete Aquarium Adventure is designed to look like a treasure chest. The resources in the kit are somewhat similar to those in The Complete Zoo Adventure.
Thirty-one Animal Fact Cards are similar to the Fact Field Cards with questions and answers on both sides for the 31 creatures presented in the book. Seven Ocean Zone cards teach about the six zones corresponding to various depths of the ocean. These might be used before the field trip to alert students to the fact that different sea creatures are designed to live in the various zones. None of the questions on the Animal Fact Cards ask students about the zones, but it might be interesting to add that question on your own.
Students are likely to have the most fun with the BingOcean and Aquarium Animal Alphabet cards. Three double-sided cards included in the kit have these games on both sides of each card. (You can copy and make more cards if needed.) BingOcean is a bingo game that allows students to mark a square when they find the creature named in the square. (These are the same creatures featured in the book and on the Animal Fact Cards.) Aquarium Alphabet has a line for each letter of the alphabet. Students look for animal names (common, genus, or species names) to fill in each line of the alphabet.
The book has two identical pages (154-155) for Aquarium Animal Observation Sheets that you might want to copy and take along to the aquarium. However, students will complete a full page for each creature, writing information such as the habitat, physical description, survival designs, behavior, diet, reproduction, and other features. They might add a color drawing. Obviously, this page will take quite a while to complete, so you might have students select only their favorite creature to write about and draw on this form. Alternatively, you could use these forms after the field trip, letting students research the creatures online or in books rather than at the aquarium.
Activity pages for after the field trip have some similarities to those in the Zoo Adventure, but there are fewer formatted worksheets for older students to use. You might have older students spend time on Aquarium Animal Observation Sheets or on the composition activities on pages 135 and 137.
Summary
Both Adventure books look like they would be great fun to use. Your success with them will depend to some extent on students being able to actually find creatures featured in the books. So parents will need to do some advance research to avoid frustration. Mapping out routes in advance so that students successfully find creatures early in the field trip should increase everyone's enjoyment.
The preparation and follow-up activities really do help students get the most out of the field trip. So I would encourage you to make use of as many of the activities as you can. Christian families who want to help their children understand God's role as the Creator and the weakness of evolutionary explanations should appreciate the assistance provided by both of these Adventure books. I expect that for most families these field trips will be far more effective than just tackling a zoo or an aquarium on your own.