At Raising Up Wild Things, Natalie McCatty has created beautifully illustrated resources for nature study and introductory science that should be useful with children from preschool through about third grade. All of the resources are available only as PDFs. These include brief studies, such as the Ladybugs Mini Unit and the Butterfly Art and Activity Pack, as well as the much more extensive journals and notebooks that include:
The Garden Notebook
The Forest Journal
The Pond Journal
The Seasons – A Year of Nature Journaling (a bundle of individual studies for all four seasons)
All of these resources feature McCatty's gorgeously detailed ink-and-watercolor artwork. They are so beautifully done that you might want to frame some of the pages!
The illustrations are often accompanied by brief information, and many of the studies include pages with illustrated flashcards and small posters. Pages titled "My Journal Page" appear in some of the studies, and these have instructions for nature walks and things to look for and record. Hands-on activities, such as constructing a snail terrarium, making a crown from dandelion flowers, and making berry muffins, are included in most of the studies.
While much of this has a "Charlotte Mason" flavor, children are rarely told to draw anything—unlike Charlotte Mason's approach that would have children create many of their own drawings.
I'll provide a more detailed review of The Seasons, the most substantial of these resources.
The Seasons – A Year of Nature Journaling
The Seasons – A Year of Nature Journaling combines four studies titled Spring Journal, Summer Journal, Autumn Journal, and Winter Journal which can also be purchased individually. The Seasons can be used over the span of an entire year. You might use it every day if you have children complete phenology wheel entries on a daily basis and you use resources from the Notes & Resources file. (Phenology wheels and the Notes & Resources file are explained below.) However, you can pick and choose what to do, perhaps using a lesson only once every week or two. There is a lot of flexibility.
The course consists of four essential PDF files and an extra file for those in the southern hemisphere. These files are:
The Wild Child's Nature Journal (a compilation of all four seasonal journals)
Notes & Resources
Master Booklist
Posters and Flashcards
Phenology – southern hemisphere (one-page chart to fill in for the seasons and the months as experienced in the southern hemisphere)
The Wild Child's Nature Journal is the main resource, and it has the studies for each of the four seasons. It begins with spring, although you can skip ahead to autumn or whatever season you are experiencing. Topics are relatively narrow, focusing on selected aspects of topics rather than trying to provide comprehensive information. The idea is to introduce children to nature topics and encourage them to observe, experience, and ask questions. The following topics are introduced in each season.
Spring Journal - butterflies, flower blossoms, songbirds, seeds, "spring minibeasts" (i.e., snails, honeybees, ants, slugs, ladybugs, spiders, earthworms), and springtime foraging
Summer Journal - honeybees, wildflowers, coastal and wetland birds, trees, creatures of the night sky (i.e., fireflies, moths, bats, owls, and mosquitos), and summertime foraging
Autumn Journal - fungi, phases of the moon, apples, spiderwebs, autumn trees, and fall foraging
Winter Journal - trees in winter, types of hibernation, birds in winter, winter weather, the winter night sky, and winter foraging
Each topic begins with illustrated information and ends with a journal activity or other type of activity. For instance, the autumn section about spiderwebs begins with images of three different types of spiders that spin different types of webs. There is a paragraph of information about each one. The next two pages have illustrations and explanations of how spiders spin their webs. Then a journal page directs students to, "Search for spiders around your yard or on a nature walk. Observe their web shapes and draw them here." In the bottom right corner of the journal page are a few "Questions to Ponder." These questions ask: "What kind of spider did you see? Was it an orb weaver, a funnel-web spider or a different kind of spider? Was the web broken or intact? Did you spot the spider's next meal?"
The foraging sections for each season have to do with edible items, and they conclude with one or two recipes rather than journal activities. Some activities will be more time consuming than others. For instance, the autumn-foraging lesson has a recipe for crabapple jelly that requires you to forage for the crabapples, then cook them to make the jelly. (Parents need to carefully supervise foraging activities since some wild plants, fungi, etc. are dangerous because the plants or fungi are themselves poisonous or harmful, because of chemical sprays, or because of other contaminants.)
Many activities are appropriate for children as young as four or five, although pre-writers will need to dictate information about their observations that someone else will record in their journals. (Or maybe you skip that part for younger children.) Occasionally, the information is for an older audience. For instance, the section on snails explains the growth spiral for snail shells which reflects a Fibonacci sequence. In a rare digression from the narrow topic, it explains how patterns based on the Fibonacci sequence show up frequently in nature.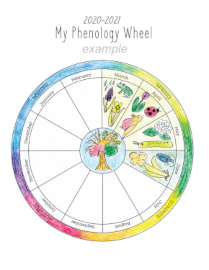 Pages with templates for phenology wheels—one for the entire year and one for each month—are at the end of the book. Phenology wheels serve as recording devices to illustrate what is happening in the natural world each month or each day. An explanation of how to use these and illustrated examples are at the end of the Notes & Resources file. (See the nearby image of a year-long phenology wheel.) This aspect of the study might provide daily lessons, but it is up to you to help children know what to observe and record.
The author writes with the assumption that those using the course live in an area that experiences the seasons, including snow. Some of the wildlife creatures, such as fireflies, lead me to think that it also most closely reflects what you will find in the middle and eastern parts of the United States. Those living in other areas might want to identify comparable wildlife and plants native to their own areas.
The 91-page file, Posters and Flashcards, presents all of the illustrations from the book. The flashcards might be particularly helpful to bring along on a nature walk to help children know what they might look for.
The Notes & Resources file is very useful, although parents will need to spend time investigating the possible resources to determine which are most suitable for their children. For each topic in the study, this file has suggestions for children's picture books, poems, and websites. The websites have informational videos (e.g., "Life Cycle of a Ladybug"), experiments, art projects (e.g., "How to Draw a Tree"), other types of projects (e.g., "How to Build a Lightning Bug Lantern), unit studies, and recipes. The Master Booklist file separates out all of the book titles included in Notes & Resources so that the book titles are compiled in one place with a list for each season. This is much easier to use if you are searching the library for the books.
Layout of Other Resources
All of the other resources vary in their layouts. I will describe two of them briefly.
The Garden Notebook begins with ten pages of illustrated information about pollinators, pests, helpful insects, some plant anatomy, flowers for "cutting gardens," the life cycle of a seed, seed starting, and types of vegetables. This is followed by six pages of charts and forms to complete. Some of these, such as the Weekly Garden Diary, Plant Profile, and Garden Log will be used many times. Finally, there are 13 pages of full-color flashcards. There are no instructions, so you just use the pages as you please.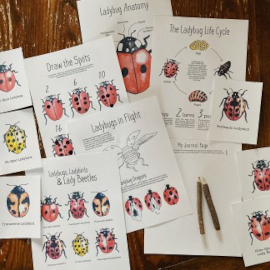 The Ladybugs Mini Unit is an eight-page file about ladybugs, ladybirds, and lady beetles. Detailed illustrations show six species of them, and these illustrations are duplicated on flashcards at the end of the file. The next page illustrates the ladybug's life cycle. Following this is a page identifying the features of a ladybug—all at a level that four- and five-year-olds should be able to grasp if someone reads the words to them. Next, children learn about the complex way that a ladybug's wings fold beneath the hard outer wings. On an activity page, children will draw the specified number of spots on different ladybugs, since the number of spots helps identify different species. A journal page sends children into the wild to look for ladybugs and to try to count the number of spots. Children who are able can identify the particular species they observe by using a field guide if you have one on hand.
Summary
The resources at Raising Up Wild Things are wonderful for those who want to help their children experience nature and learn by observing. The flexibility makes it adaptable for use over a wide span of ages, and it allows parents to choose how much time to devote to each study.