Robert Thompson at The Home Scientist points out in the preface to his Illustrated Guide to Home Chemistry Experiments that back in the 1950s and 1960s, many families bought chemistry sets for their children that allowed them to do serious chemistry. Liability and legal issues degraded the home-use chemistry sets manufactured since then to the point where they are generally of little real value for those who really want to learn something. Thus, those interested in serious science education, especially homeschoolers, need to either create their own chemistry set or purchase a kit designed to provide authentic laboratory experiences. To that end, Thompson has created kits and manuals so that homeschooled students can use real chemicals, proper glassware, heat, and other resources that allow them to experience visible and, sometimes, dramatic results from their experiments.
Lab Kits with Manuals
Thompson has created two Homeschool Chemistry Laboratory Kits that are suitable for homeschoolers—one for a standard course and one for an honors course. The PDF manual in each of these kits covers lab work for a full year. These kits use chemistry equipment and chemicals that will require caution and adherence to proper procedures.
The CK01A Home School Honors Chemistry Kit has a 225-page manual that presents 39 experiments and covers 14 topics. You will need to use a few household items such as sugar, salt, and aluminum foil. (Note that if you need a second pair of goggles to be worn by a supervisor or parent, you can order the CK01AG kit that includes two pairs of goggles but is otherwise identical.) You can also get refills for all of the chemicals if need them. You can download the manual for free without having to register or purchase anything. On The Home Scientist website it says, "The kit can be used with a religious curriculum or a secular curriculum, and is easy to coordinate with any standard chemistry textbook, including A Beka, Alpha Omega, Apologia, Bob Jones, CK-12, Real Science for Kids (RS4K) Chemistry II, RS4Teens Chemistry, and many others."
The standard kit (CK01B) provides 31 chemistry experiments that cover 13 topical areas. Some of these experiments are similar to those in the honors kit, but some are simplified to require less time or less-costly resources. You can download the 186-page manual for free to see exactly what the experiments cover and how they operate. A refill kit for the chemicals is also available for this kit.
Those purchasing either kit also receive a free PDF answer key when they place their order.
Illustrated Guide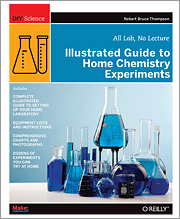 Robert Thompson's Illustrated Guide to Home Chemistry Experiments, published by O'Reilly Media, was what first caught my attention. You can use this manual if you want to create a lab on your own.
This is by far the most comprehensive and complete chemistry lab manual I've seen to date. It was not written particularly for homeschoolers. Hobbyists who want to create their own chemistry labs for their own edification should find this book extremely valuable. At 400+ pages and about 2.5 pounds, the book covers everything: course outlines, lab safety, equipment for your lab (a very extensive chapter!), obtaining and working with chemicals, how to dispose of chemicals, sources for equipment and chemicals, microchemistry substitutions, lab skills such as working with heat sources and measurements, creating and using the laboratory notebook, and lots of experiments. (Be sure to check with your local hazardous waste disposal office to find out if they have any directions or restrictions that differ from those in this book.)
The book has 17 chapters that are each devoted to a topic, such as acid-base chemistry, or colloids and suspensions. Each chapter has two to six experiments from which to choose. If you want to create your own lab course, you can select experiments on your own, but it will be easier to use one of Thompson's recommended outlines that he has in the first chapter. Thompson says in the preface, "A student who completes all of the laboratories in this book has done the equivalent of two full years of high school chemistry lab work or a first-year college general chemistry laboratory course."
Most high school students will not be doing all of the experiments. Thompson's outlines for lab courses list the recommended experiments for a chemistry course for a high school student who will not be a science major in college, a course for potential science majors, and a course for Advanced Placement Chemistry.
Before tackling experiments, students should thoroughly read through the fifth chapter "Mastering Laboratory Skills." The supervising parent or teacher, if not already very familiar with chemistry lab skills, should also study this chapter.
The step-by-step procedures thoroughly explain the experiments, and each experiment has a list of required equipment and supplies, cautions, optional activities to extend learning, tables or charts that should be created in the student's notebook for data recording, and review questions. I especially appreciate the frequent sidebar comments, cautions, and recommendations, since there are certainly dangers when a novice works with chemicals under the supervision of a parent who likely has limited (if any) experience teaching chemistry. Often there are suggested substitutions or modifications suggested for experiments that might be extremely helpful.
The topics taught in high school chemistry courses are fairly standard, so the experiments in this book can easily be correlated to just about any textbook.