The Joy of Knowing How to Learn is a series by Joyce McPeake Robinson with one book for spelling and two for vocabulary. All three books teach spelling or vocabulary words one at a time using a ten-step process. Students can complete much of their work independently, although younger students might need more assistance.
The books are not reproducible, so you will need one for each student. Answer keys are included within each book. The bound workbook keeps all work pages intact for easy review, but you might want to remove the answer key pages from the book. (It doesn't work to remove student pages to use when needed since lesson pages, pre- and post-tests, and checklists are printed back-to-back, and you would need to preserve the pages for subsequent lessons and tests.) I'm hoping the publisher will make the books available as PDFs for those who would find that format easier to use.
Spelling
Language Skills Series 1: Spelling can be used on its own with a range of students from grades two through eight.
Rather than a typical spelling course, this book narrowly focuses on the 100 most commonly misspelled words, such as ache, built, cough, separate, Wednesday, and won't. These are words that students should master by junior high, yet they often prove troublesome for students even up through high school. This is not a phonetic or word-family approach as we often find in spelling courses.
Before the first lesson and after each group of ten words, students per-test with multiple-choice questions to identify which words they need to study. They can skip the others. The pre-test results might not be definitive because of the use of multiple-choice questions, so Robinson tells parents and teachers (on page 15) that they might, instead, dictate spelling words in a more traditional fashion.
Checklists provide a place for students to transfer the results of their pre-tests so they (as well as a parent or teacher) can see at a glance which words need attention.
Students can then tackle the study sheets—one sheet for each of the 100 words. Each study sheet follows the same format with ten steps. Within the ten steps, students read a sentence with the word, write the word correctly, read a definition of the word, write it correctly once more, fill in missing letters for the word, complete the same sentence used in step one by filling in the spelling word, write the word again and identify the number of syllables, write the syllables (or complete word if it has only one syllable), say the word carefully pronouncing each syllable, picture the word in their mind with their eyes closed, write the word three more times, and write a new sentence using the word correctly. Students should work on only those words that they missed in the pre-test unless a parent or teacher thinks working on additional words would be helpful.
As you can see, Robinson tries to focus the student's attention in a number of ways, but writing the word correctly is the strategy used most frequently.
The design of the book makes it easy for students to work independently for the most part, although parents should be paying attention to ensure that students don't misspell a word at the beginning of a lesson and continue to reinforce that same error throughout the lesson.
While pre-tests present words within sentences, post-tests present students with multiple-choice groups of words. For example, one post-test multiple-choice group for the spelling word coming includes the four options: comming, comig, comeing, and coming. As with the pre-tests, parents or teachers might dictate spelling words instead of using the tests.
Language Skills Series 1: Spelling should be helpful for students who struggle with the correct spelling of common words. Many of the commonly misspelled words defy phonetic rules, and an approach such as this might be the solution.
Vocabulary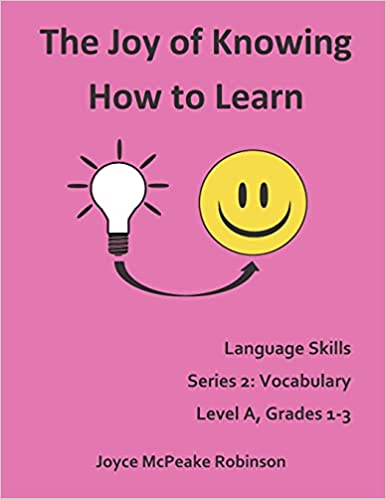 The two vocabulary books are Language Skills Series 2: Vocabulary, Level A, Grades 1-3 and Language Skills Series 2: Vocabulary, Level B, Grades 4-6. Both levels teach 100 words that are commonly used by students. So Level A includes words, such as busy, enough, and heard, while Level B includes words such as change, daily, and honest along with more-challenging words, such as amateur, familiar, and restaurant.
Both books present a ten-step learning process for each word on study sheets. The ten steps are spread out over two pages in Level A, while Level B has all ten steps for each word on one page. While the steps touch on the same skills in both books, they are presented in slightly different ways appropriate for each level. Within the ten steps, students learn words and their definitions, read an example sentence using the word, write the word in syllables, identify the word as used in the example sentence, fill in missing letters to spell the word, review the meaning, and construct their own sentence using the word. One example of the differentiation is that students using Level A clap out the number of syllables in words before writing them down.
There are no pre-tests in Level A, but Level B has ten pre-tests that have students match columns of ten words and their meanings. As with the spelling book, students can skip the study sheets for words they already know. Post-tests in Level A are multiple choice while Level B offers two options: multiple choice and filling in words in sentences from a word bank.
Summary
The Joy of Knowing How to Learn books are a relatively inexpensive way to focus spelling and vocabulary study on words that students will encounter frequently. The books can easily be used as supplements, and they require little work on the part of parents.