Terri Johnson has created marvelous collections of maps and timelines that can be used alongside all of your history studies for all grade levels for both world history and U.S. history.
Map Trek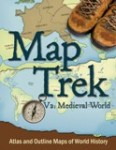 Map Trek is a set of five different collections of maps. World maps are divided into four time periods: Ancient World, Medieval World, New World, and Modern World. For each period, there are about 60 labeled maps plus an equal number of corresponding unlabeled maps, four or five pages of lesson plans, and a page with a glossary of terms and a list of geographical regions or places covered. The selection of maps is quite broad. There are maps from Asia and other parts of the world, but the collections and the activities reflect an essentially western civilization approach.
Map Trek U.S. Edition can be used with your U.S. History studies as well as for geography. There are 53 historical maps, 50 state maps, three U.S. maps, and 106 student maps. Historical maps cover topics such as exploration and expansion, Native American tribal groups, the original colonies, and the Civil War. But they also cover other topics that arise in United States history courses such as WWI, WWII, the Korean War, the war in Vietnam, the Gulf War, 9/11, Afghanistan, and Operation Iraqi Freedom—a high proportion of war coverage among these maps. As with the world history maps, lesson plan suggestions are included.
Each collection of maps comes with lesson plans for grades 1 through 12, with plans divided into three levels of difficulty. Lesson plans are essentially activity suggestions for research and entries on the maps.
Map Trek can serve as both an atlas and as a source for blackline maps that can be used alongside just about any history course or unit study. Teacher maps are in full color with answers overprinted. Student maps have light shading but no overprinting. These maps include places and geographical features for identification/labeling and there is room for students to add their own information whether it be cities, battle lines, or geographical features such as rivers or mountains. The unlabeled maps have no labeling other than the title of the map. These unlabeled maps are suitable for older students sixth grade and up.
Map Trek collections may be purchased as the Complete Collection covering all four time periods and the U.S. Edition or as individual sets. The complete collection has more than 465 world maps plus the U.S. Edition maps. The Complete Collection is available as a hardcover book, a CD-ROM, or as a digital download, while individual collections are sold only as downloadable e-books.
Permission is given to reproduce maps for personal use but not for an entire classroom or school. (Contact the publisher for information on classroom use.)
Timeline Book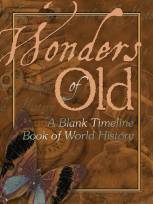 The timeline book, Wonders of Old: A Blank Timeline Book of World History, is a beautiful 101-page hardcover book with pages printed on 70 lb. paper. Most of the pages are your timeline pages marked off into time periods. The book is divided into the same four sections as Map Trek. For each section of the book, there are a few pages of key events and dates that students might enter on the timeline.
Wonders of Old comes with a free downloadable file of timeline category stickers. (You will need to glue these in place unless you have a way to print them as stickers.)
This book does not include figures to affix to the timeline. Timeline figures from sources such as History Through the Ages will work fine or you might have students create their own small drawings or summary statements.