PhonicBooks® publishes three different series of readers for beginners that can be used in about kindergarten through third grade. The readers are designed to catch the interest of children, so they feature large, full-color illustrations, many of which take up most of the page as in children's picture books. Each set of readers focuses on specific phonetic concepts while incorporating some sight words. They should be useful for reading practice alongside most phonics-based reading programs. PhonicBooks also publishes multiple series of readers for older students, called Catch-Up Readers, that I review separately.
Each set of readers has a companion workbook. The workbooks are optional, but they help reinforce the concepts covered within each set of readers.
Dandelion Launchers
Dandelion Launchers, the starting place for beginning readers is a series of readers that uses short-vowel words almost exclusively. There are two sets of readers and a workbook for each set. The first set has 14 readers and the second set has 16. The readers are ten pages long, including content on both inside covers. All of these readers have a game on the last two pages that helps children practice reading the words that represent the phonetic focus of the reader. The game can be used before or after a child reads the book.
The first set or readers begins with consonant-vowel-consonant (CVC) words, such as sat, bat, and nut. It includes words that end with double consonants, such as buzz, doll, and kiss. The second set introduces CVCC words, such as land, junk, and lift. Readers in the second set use words that include phonograms, such as th, wh, and qu.
Most of the stories feature talking animals and have one sentence of text per page.
There is a workbook for each set of readers. Both workbooks have decoding, comprehension, and writing activities, and the second workbook adds some activities for spelling.
Dandelion Readers
Two sets of Dandelion Readers focus on words with long vowel sounds and some of the more unusual vowel sounds. The first set has six readers that use words that contain VCV combinations to make long-vowel sounds—words such as cake, broke, flame, and these. The first five readers in the set each incorporate words featuring one of the five long-vowels, and the sixth book uses words with all of them.
The second set available in this series has 12 readers that feature words that include two-vowel phonograms such as ai, ee, oo, oi, and ea as well as other phonograms such as igh, aw, and ar. Children will be reading words such as mail, tree, oil, groan, wood, and night.
The stories feature human characters, talking animals, and robots, and each page has up to four sentences. The last two pages of each reader have a game that should support what students are learning and be fun to play The workbooks for these two series have activities for phonics, reading practice, comprehension, and spelling.
Dragon Eggs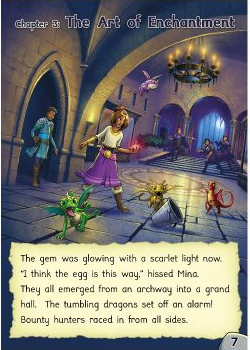 The Dragon Eggs series should be used to help children develop reading fluency. There are ten readers in one set. Each of the readers uses many words that make the same vowel sound but with different spellings. For example, the first reader focuses on the long a sound as in the words day, lazy, great, they, stain, and amaze.
This series has a continuing storyline featuring Mina and her quest to find lost dragon eggs. This fantasy story is full of adventure and excitement. Even though it is recommended for ages five through seven, I expect that children up to about ages nine or ten will enjoy the story.
The workbook for this series has activities for word building, spelling, and reading comprehension.
Games
PhonicBooks publishes two types of games that can be used alongside these readers. You can read my review of the games here. I highly recommend the games for young readers, and I found the book-based games especially useful.
Summary
PhonicBooks readers are very eye-catching with their great illustrations, and many of them have interesting storylines. Both features are likely to make these readers popular with children. In addition, they are solidly based on phonics and can be used on their own or in conjunction with resources such as Alpha Phonics and Teach Your Child to Read in 100 Easy Lessons, as well as with more comprehensive phonics programs.