Under the series title Script-n-Scribe™, Brandy Ferrell has created a number of courses related to a traditional style of cursive handwriting—although some courses encompass much more than that. Ferrell believes in teaching cursive before printing, even starting as early as preschool, and all of her resources address only cursive handwriting skills. Most of these resources are available in either print or PDF versions. I will first describe the courses that teach beginning cursive handwriting.
Roller Coaster Writer: Introduction to Cursive
Roller Coaster Writer: Introduction to Cursive is available as either a 137-page PDF or as a preprinted set, with an 84-page, spiral-bound workbook and 26 two-sided cardstock pages. The PDF pages of cards should be printed on cardstock, and both those and the preprinted cards need to be laminated and cut apart. The cards include three sets of instruction cards for lowercase letters, uppercase letters, and numerals plus a set of Bookface Print Phonogram Cards
The course begins by teaching about the three parts of the line on which students will write: the baseline, midline, and top line. Then it introduces the six basic strokes used to begin the lowercase letters. The strokes are given catchy names related to roller coasters such as "short ramp" and "tall loop." You will use one of the cards and a dry-erase marker to teach each stroke then demonstrate on a whiteboard. Students trace with their finger or write in the air while saying the name of each stroke. The first pages in the workbook are for students to practice writing these strokes.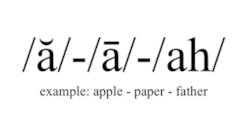 The course then introduces the lowercase letters, grouping them according to the beginning stroke. Students will follow a process similar to what I described above to learn how to write each letter, and you will introduce the phonogram card for each letter when you teach it. (The phonogram cards are similar to those used in reading programs that implement the Orton-Gillingham method—programs such as All About Reading and The Logic of English.) This element of the program reinforces your phonics instruction since both teacher and student are to say the sound(s) of the phonogram rather than the name of the letter. Note that students are also learning to recognize the letters in a typeface similar to what they will see in books because of the Bookface Print Phonogram Cards.
With younger learners or those who need tactile reinforcement, you might also use other tactile resources for practicing letter formation such as sandpaper letters or the Script-n-Scribe Wooden Tactile Cards for either lowercase or uppercase letters.
After students have learned to write the lowercase letter, they learn the uppercase letters. The uppercase letters are taught in alphabetical order rather than in groups with common strokes. After the uppercase letters, children learn how to write the numerals from zero to nine.
Script-n-Scribe™ The Letter Connector
The Letter Connector helps students learn how to join letters into words. Rather than teaching the joins for random letters, it teaches how to form phonograms such as sh, ee, and igh. Students write the phonograms, then complete words, and then sentences. Parents quiz students by having them write phonograms from dictation. The 168-page PDF for this course includes a student workbook and 24 pages of double-sided cards. The cards include phonograms written in cursive as well as phonograms and their sounds in a bookface type. The printed version of the course includes a bound workbook and the cards printed on sheets of cardstock.
Copywork and More
Once children have learned to write cursive sentences, they can practice with one of the other copywork resources described below that Ferrell has created. All of these resources are based on a Christian worldview, include memorization plans, and use artwork images as well as poems and hymns that are in the public domain. These courses fit well within both classical and Charlotte Mason approaches to education.
Poetry Penmanship & Memorization
Poetry Penmanship & Memorization has only one course at this time, although it seems like it is the first in a planned series. This coursebook, titled Poetry Penmanship & Memorization: Virtue in Poetry, presents 12 poems and 12 Bible verses to be used for copywork, a poetry memorization plan, and coloring pages. The poems reflect virtuous character traits, and the Bible verses were selected to coordinate with themes in the poems. The copywork pages have space for students to copy the poems, and notebooking pages are included for older students to write out the poems and Bible verses. The pages are printed in black and white, and the illustrations can be used for coloring. This course might be used by students in kindergarten through fourth grade.
Poetry, Hymns, History, and Art Study
Overview
The next three resources all include copywork, picture studies, and memorization plans. These should be appropriate for about third grade and above.
Copywork is for complete poems and hymns, and many of these take up a number of pages. You need to break these assignments up over several days. Bible verses are included in two of the resources, but those passages are shorter.
Memorization plans at the front of each book provide a rotating schedule showing twelve weeks that cycle students through the recitation of a gradually growing memory bank from the lessons. You can choose to have students memorize only one stanza from each poem, or you can have them memorize more. With the coursebook, Hymns in History, students should learn the entire hymns, and that will certainly be easier if you sing them. You can have students memorize Bible verses if you wish, also following the same schedule as for poems and hymns. At the back of each book are pages that present each poem or hymn more compactly. Printing out these pages to use for memorization should be helpful. Students will not all move at the same pace through these courses, so you can work through the twelve-week memory cycle for a course as many times as you need to.
For the picture studies, students view a full-color image of a work of art, then they are given open-ended questions that encourage them to study the artwork closely. Lessons in these courses accompany artwork images with questions such as, "What do you notice first?", "What else do you see?", and "Cover the painting and try to describe everything you remember about the picture." Sometimes there are brief historical notes about an artwork. This is often the case in the Americana coursebook.
The picture studies are usually followed by a grammar activity using words or passages related to the artwork. For instance, in Truth Traveler, a picture study of "The Tower of Babel" by Pieter Bruegel the Elder is followed by an exercise page about singular and plural nouns. Students will trace then copy nouns on the lines provided. Next, they look for each of the items identified by the nouns (e.g., tower, arch, window) within the painting. They will also underline singular nouns and circle the plural nouns. Finally, they write a noun for something they see in the picture that has not already been identified. Grammar is not taught in a sequential fashion, so these activities serve as a supplement to more-comprehensive grammar instruction.
Americana: Exploring America through Cursive Copywork - Poetry and Art Study
Americana is a 172-page book that features poetry and artwork likely to promote patriotic appreciation for the United States. The course uses seven poems, and some of them, such as "Paul Revere's Ride" by Longfellow, are very long. This particular poem has an extra picture study inserted in the middle of the copywork pages for the poem, since students are likely to need a break from the copywork. This happens elsewhere in this course. There are 17 picture studies. Some of the picture studies are presented consecutively, showing two paintings of the same topic (e.g., two different paintings by the same artist titled Washington Crossing the Delaware). Students compare the two paintings, looking for similarities and differences.
Hymns in History: Exploring Hymns through Cursive Copywork, Scripture, and Grammar with Art Study
The 157-page book, Hymns in History, features copywork for 12 hymns and a related passage from the Bible for each hymn. A "Picture Study with Grammar" is presented before each hymn. Additionally, there are four quotations of copywork from the writings of Martin Luther, John Newton, George Muller, and Richard Wurmbrand.
Examples of the hymns are "All Glory, Laud, and Honor" by Theodulph of Orleans, "All Creatures of Our God and King" by St. Francis of Assisi, and "Jesus Shall Reign" by Isaac Watts. Sheet music for the hymns is included at the back of the book.
Truth Traveler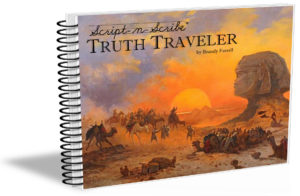 Truth Traveler has a very strong worldview component with poems and scripture passages that address topics such as the nature of man in relation to God, the pride and ambitions of men, and how people are to treat each other. Some of the featured poems in this 146-page book are "A Nation's Strength" by William Ralph Emerson, "Song of Life" by Charles MacKay, "Loom of Time" by an unknown author, and "Truth Never Dies" by an unknown author.
Summary
The primary use for these Script-n-Scribe resources will be improving handwriting skills, but the courses for third grade and above offer a great way to expand into art appreciation, grammar, and memory work. At the time of this review, there is a free, downloadable excerpt from the Americana coursebook that should be useful for those in third grade and above.